Carlyle Backcountry Lodge Location:
Elevation – 7200 Feet – Kokanee Mountain Range
Selkirk Mountains – Kootenays – British Columbia – Canada
MAP 82F/14…1:50,000 scale
UTM = 489949E 5530191N
Mt Carlyle Lodge accommodates 12 backcountry enthusiasts comfortably.
Our Backcountry Lodge Amenities:
Seperate snow room/entry.
Large Kitchen and dining area and separate relaxation/recovery room.
Seperate sleeping annex with 4 spacious bunk rooms.
in-house washroom with night toilet.
Sun deck with outdoor barbeque.
Hot water on demand system.
newly renovated kitchen and mudroom.
Best view of Kokanee Glacier of anywhere in the kootenays right from the dining room table
Power: Solar and generator.
Cooking: Propane.
Heating: Wood heater in the relaxation/recovery room + two propane stoves with ample space for drying gear.
Separate Sauna house, shower.
Location
The Mount Carlyle Lodge is located 30km west of the town of Kaslo 70 km north of the city of Nelson, in the Kootenay Region of Southern British Columbia, Western Canada. Nelson is the closest larger center, with a population of approximately 10,000 .
Summer access : A 3.5 hour hike (average time).
In the Winter : By Helicopter. Flights to the lodge leave from Kaslo Airport, (a 1 hour drive north of Nelson). Kaslo is a small picturesque mountain town with a population of around 1,200 on the west shore of Kootenay Lake. Kaslo has most amenities you may need including various accommodation options, a super market, a liquior store (both not open on Sunday) and 3 restaurants.
If you need any last minute mountain gear visit the Roam shop in Nelson.
If you are traveling from the USA, we recommend flying into Spokane WA, and either rent a car or take advantage of the shuttle services listed below.
The approximate driving time from Spokane to Kaslo is 4.5 hours over a driving distance of 400 km.
If you plan to fly back from Spokane, we recommend booking a flight not earlier than 6:00 PM on Sunday.
Closest airports within Canada:
Castlegar BC – 150 km from Kaslo
Cranbrook BC – 400 km from Kaslo . Non stop flights from SLC (USA)
Kelowna BC – 400 km from Kaslo
Travel from Airports :
Several local Group Van shuttle services are available to and from all the above Canadian airports, as well as from the Spokane airport .
Contact the below local shuttle services for more info on all the different airports they service.
Car rentals are also available from all Airports including Spokane and Nelson.
Info@footstepsecoadventures.com
Gravity Adventures Shuttle Bus
Queen City Shuttle
Driving times to Kaslo from:
Vancouver 9 hrs.
Calgary 9hrs.
Nelson 1 hr.
Castlegar 1.5 hrs.
New Denver 1 hr.
Vernon 3.5 hrs.
Revelstoke 3 hrs.
Cranbrook 4 hrs.
Spokane 4.5 hrs.
Kelowna 4.5 hrs.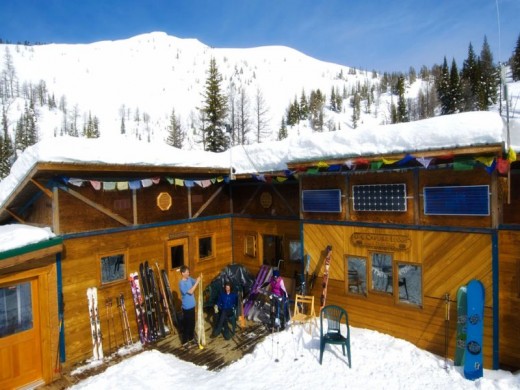 Our ski weeks run Sunday to Sunday . For the sake of logistics, we recommend your group stay in Kaslo the night prior to your flight into the lodge.
We will meet you at 8:00a.m. at "The Treehouse Restaurant" to sign waivers, and guide your group to the heli staging area.
In regards to the exit flight day from the lodge, you can plan on being back at Kaslo Airport at around 12:00 noon. In case we can not fly (due to inclement weather), we have a good ski-out option that takes 4 hours on average. Skiers at the lodge have the option to sit tight or ski out. Any ski out option would involve a vehicle pick up/shuttle fee. That said in almost 20 yrs of operation we have only had to postpone our flight day twice.An amazing record.
Please visit the Pre Trip Info for more details regarding our flight into the lodge and accommodation options.