Vitamin Ski PHD
October 18, 2022
This 5 day program featuring Mel and Brendan as our experienced ski guides helped us grow and develop our touring and mountain skills making us a more competent recreationalist while supporting us going deeper into the backcountry for fresh tracks! Coming out of this course we gained more confidence in decision making in the mountains to support us having more safe and successful days in the backcountry!
We covered
Route planning and finding with maps and digital devices
Interpreting Weather and Avalanche forecasts
Terrain selection for up tracks and fresh tracks
Hazard and Snow Pit Analysis
Rope and Avalanche Rescue
Shred Posse Management
See the photos for insight!
Yoga and Hiking Retreats
May 15, 2018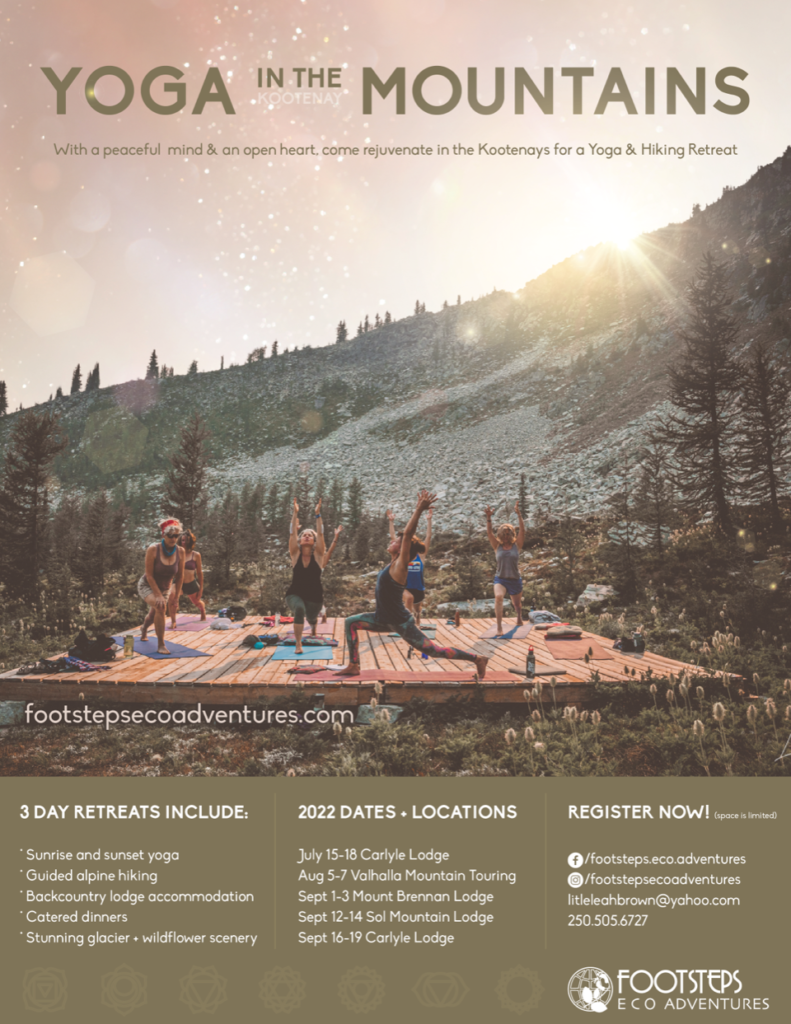 With a peaceful mind and an open heart, come rejuvenate in the Kootenays for a yoga and hiking retreat.
Guided Hiking on beautiful trails
Fully equipped 12 person lodge nestled in the Selkirk Mountains
Stunning views of Kokanee Glacier and wildflower meadows
Sunrise and sunset yoga
2022 Carlyle Retreat Dates
July 15 – 18, 2022
September 16 – 19, 2022
Contact
Footsteps Eco Adventures
250-505-6727
Winter Rapidly Approaching
October 28, 2015
A recent trip up to the lodge found us ankle-deep in pow, filmmaker and photographer Derek Frankowski tagging along for some high-lonesome-country time; that's him wayyyy down below in the approach to Carpenter Pass.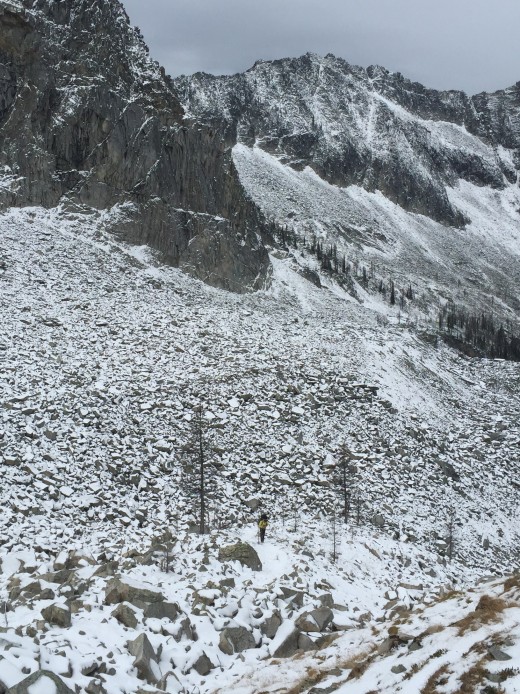 Safely deposited in the cozy lodge zone, Derek took advantage of the changing weather to film and photograph the surroundings as part of an upcoming project! (pics coming from DF soon- in the meantime, if you haven't seen Lifecycles the film, here is a link to his site- Enjoy!)
THE SOURDOUGH TRAVERSE
August 26, 2015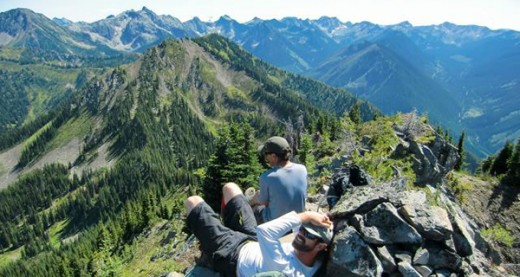 The vision of Mount Carlyle Lodge owner Brian Cross, small guided groups can retrace the footsteps of historic miners through the substantial summer tenure; whether you're a geologist by trade or interest, a history aficionado or a dyed in the wool hiker, the Sourdough route is stacked with views, vistas and stunning surroundings.
– from an article about Mount Carlyle Lodge's Sourdough Trail by Tyler Austin Bradley. Read the whole thing on Mountain Weekly.
All the way from the Adirondacks
July 26, 2015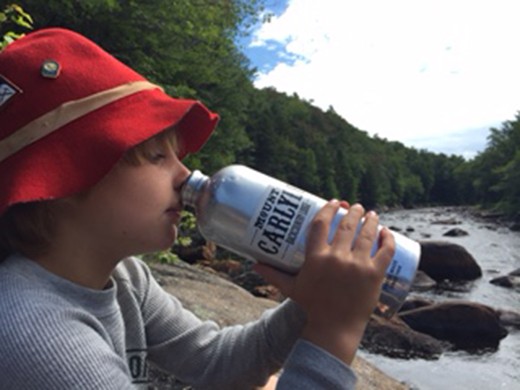 Brian,
Hope you are well. I thought that you would like this photo from a backpacking trip we were just doing along the Moose River in the Adirondacks. That is my six year old Owen.
– Craig
The Sourdough Trail
May 27, 2013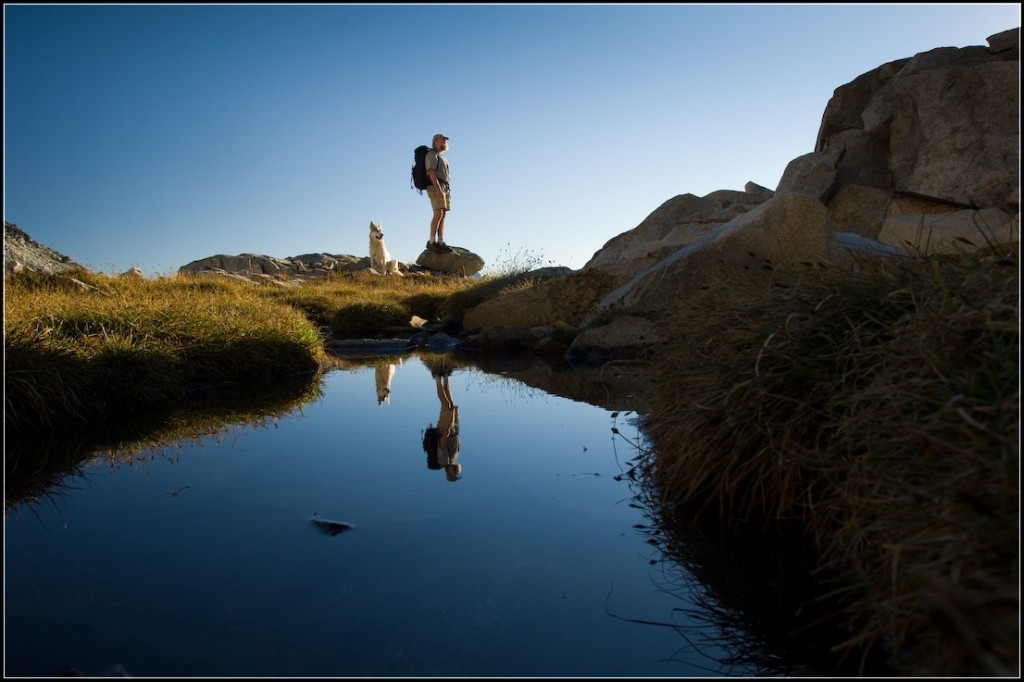 JOIN US FOR A NEW MULTI DAY TRAVERSE THIS COMING SUMMER:
The SourDough trail….A Spectacular Kootenay Classic . 4 days /3 nights of back country  hiking along a high elevation , ridgeline, overflowing with wildflowers. Camp beside alpine lakes, while being surrounded by 5 different mtn ranges. A photographers dream.
What's SPECIAL about this hike is you only need a day pack !! That's right NO Heavy pack. At all 3 camping sites we have located "stash" boxes , supplied with all camping supplies, along with all non-persihable food supplies. Read more about it here…
Thank you Mount Carlyle and Backcountry Skiing Canada!
April 3, 2013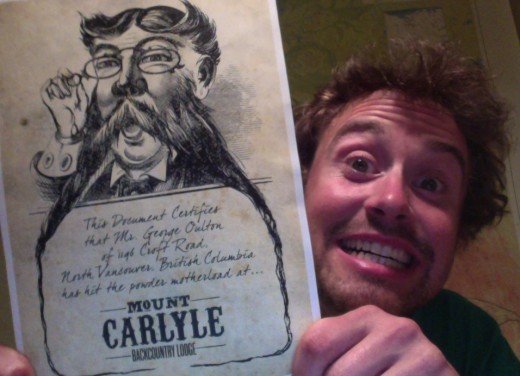 "I better dig out my powder sluice box because I recieved a letter in the mail that certifies I have hit the motherlode! So happy I could yodel. Thank you Bomber and the folks at Mount Carlyle Lodge for providing such a killer prize and thanks to Backcountry Skiing Canada for a great contest."
Stoked.
George Oulton
It is a Way of Life
March 29, 2013
Thanks to Milada P. from Slovakia for sending us this quote.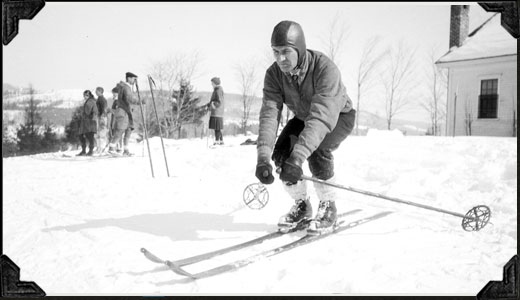 "Whatever degree of skill a skier may possess, they should never forget that their skis are after all only an instrument, a means through which they can enjoy the winter in all it's glory and ruggedness, can breath clean fresh air , can meet human beings in their true character, and can forget all the petty troubles which beset our so-called civilization. These are a few of the reasons why skiing is not merely a sport- IT IS A WAY OF LIFE.

Otto Schniebs, 1936
I want to leave ski tracks, not a skid mark
March 20, 2013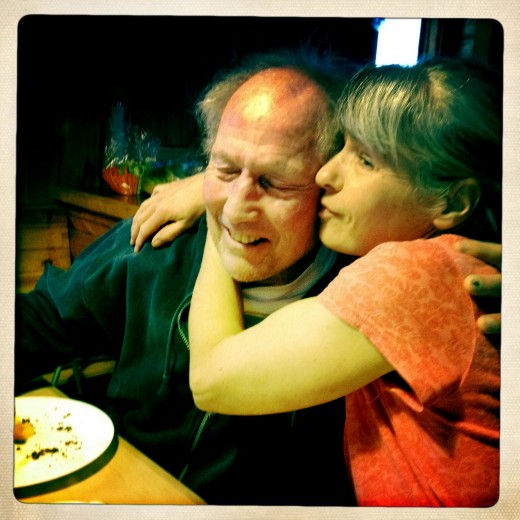 Some wisdom from the hills by Peter Lev, who was up at Mount Carlyle this winter.
Backcountry Purist Adventure at Mount Carlyle Backcountry Lodge
January 20, 2013