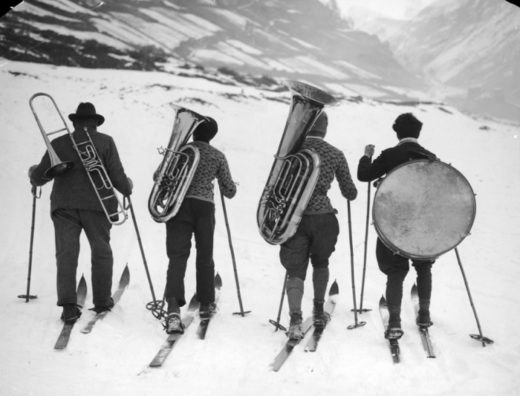 THE CARLYLE CREW.
We're so tight , folks say we make beautiful music together !
below are bio's on The Carlyle "Crew", all Keen Prospectors of our BC Powder (White Gold)
Brian (Bomber) Cross:
Powder Sinner/Mount Carlyle Playground Supervisor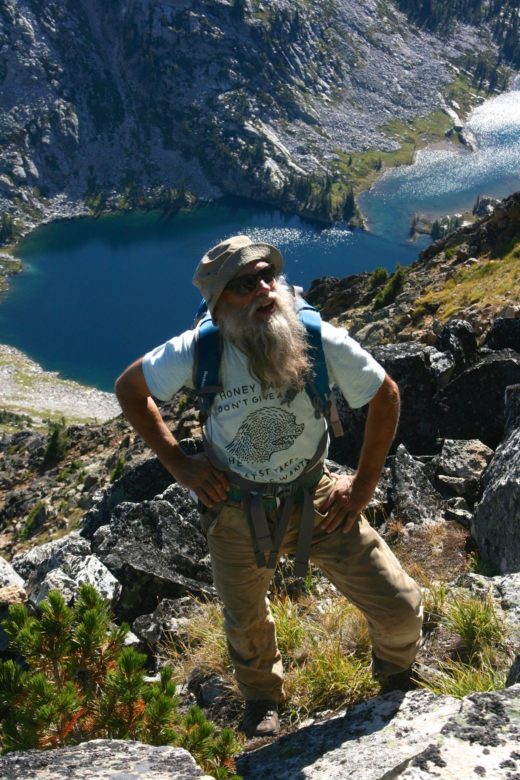 "Bomber"/"Bald Bomber",or " Da Bomb" for short (NOT Mr Bomber), is a born and bred British Columbia boy. Born in 58′ into an avid ski family with ski Instructors as parents. All the boys in the family doing their time as racers. Bombers mom was skiing with him into her 2nd trimester . Maybe why he seems so at ease on skis?.
"Da Bomb" has been Prospecting for White gold for over 59 of his 61 yrs . He started backcountry touring in 76′, and he ain't ready to slow down any time soon. Especially since he got that new knee! Now folks call him "The Bionic Bomber". His passion is skiing, having a good time, work'n hard and skiing… IT'S A WAY OF LIFE!
Back in school he was always allowed to have the "15cm flu" on Powder days. Some say he was (is?) a "sick lad". After graduating he bought an old school bus , fixed it up and headed to Rossland's Red Mtn where he worked one day a week and skied the other six. What an Awesome time that was!
TIME TO GROW UP AND GET A JOB ??? .
After working each field season as a Hard rock Mineral Prospector (25yrs), he was able to save enough coin to spend the winters ski bumming in the koot's.
Bomber's Happy Spot is in the mtns either at Mount Carlyle ,or his first love Valhalla Mountain Lodge . He Started in the backcountry ski industry in 82′(near on 38 yrs ago), as a winter custodian at Kokanee Glacier Park (a stones throw from Carlyle).
In the early 80's he noticed there was a lack of backcountry lodges for the growing amount of backcountry "Powder Prospectors", he and 2 other keeners started Valhalla Mountain Lodge in 86′ . Bomber is an active 50% owner in Valhalla Lodge and regularly splits his time between Carlyle and Valhalla , an average of 12-14wks a winter.
In 2010 he purchased Mt Carlyle lodge, which just happens to have THE BEST view of Kokanee Glacier anywhere in the Koots…Kokanee Glacier "where it all started". Full Circle.
For the past 12 yrs he's been on the B.O.D. of the Backcountry Lodges of BC (BLBCA), most of that time as the "President of Vice"……er maybe that's "Vice-President?"
He and his wife Penny (of 35yrs) live in the Slocan valley, on a 110 acre sheep farm . Among other jobs in "The Bush" he's been a Wildlands Firefighter and a Fire Warden for The BC forest service.
"Bomber" has even been involved in the "Ski Porn" Industry (no surprise)..Bill Heath's Iconic "Sinners" Dave Heath's "Groovy little slideshow" and "Schuss", throw in a few pics and articles in numerous ski mags and there ya have it , but his real claim to fame is being one of the most accommodating Backcountry lodge hosts around.
Like he says "It's been 38yrs of great experiences,skiing BC Pow, meeting ,hosting, and laughing with folks from all walks of lives. What a Blast! " A fun lovin' outdoors person who doesn't take himself serious. "Life is way too short for that kinda sh#t."
Eryn ("Pro-Pro")Prospero
Head-Cook, Baker, Part-Owner, "Mud thrower"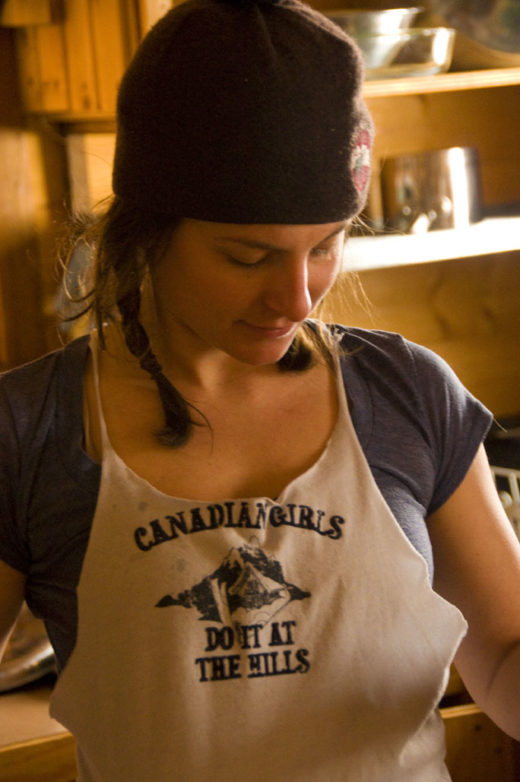 "ProPro"( now Ma-ma Pro-Pro),  has been with Mount Carlyle since 2010 , she's proven herself over many times. Hard-working , Great energy- Greater smile, even better laugh. Eryn has been such a great asset to Carlyle we made her a part owner.
The roots of her cook'n skills were honed in her Italian Grama's kitchen; her baking as THE baker in the renowned Whitewater Kitchen (rumour has it she had the "best buns" ever at Whitewater).
When she's not cookin' up a storm at Carlyle , she's in her pottery studio.
"Pro-pro" is an accomplished Professional Potter . A member of the Famous "Craft Connection" in Nelson B.C. where her pottery flies off the shelves.
Her two great loves (well now 3, she's got abrand new little baby boy. An up and coming Carlyle custodian?) , are Cookin' and "throwin' mud" (it's a pottery term!).
She loves Carlyle and skiing "the Pow", but her cooking comes first. Yer in good hands with her in the kitchen.
But what's up wit dat "Hippity-Hoppity" music she plays???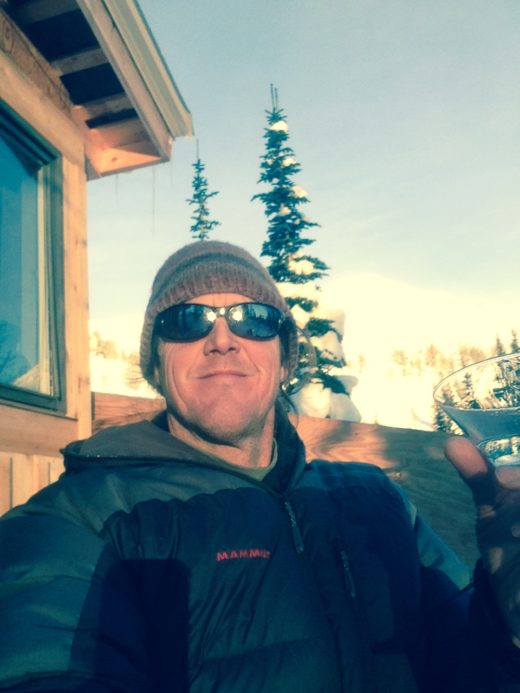 Don ("Sailor-boy")Harder :
Head Custodian extrodinaire.
Don has been with Carlyle since 2011, knows the place well and keeps things running smoothly. Folks love his easy going style (another story on the slopes tho).
Another one of those Ex-Rocky Mtn guys (aw well no ones perfect).
Don's a very competent,  Solid, multi talented Custodian. We're Glad to have him on board.  I can rest easy when he's on shift. 
Besides keeping the lodge and facilities running, his thing is being in the mtns , living in the moment and skiing Powder.
Don's also an avid sailor, makes a mean Veggie curry, a bit of a Gin snob and a Good story teller too!
Arrrg Mate-y.   Where's me G&T.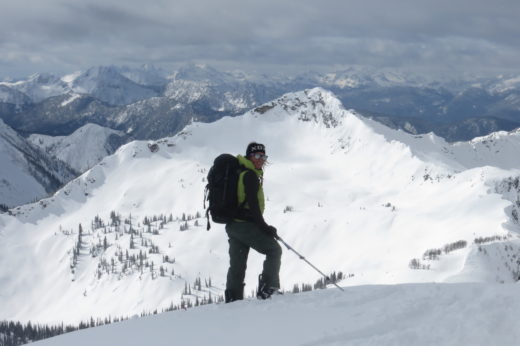 Leah ( "Slapchop" or "Lil Ripper") Brown:
Custodian , Carlyle Summer hiking Guide.
Leah has been with us since 2012. Another fantastic ,hard-working Custodian. She's big on keep'n that Sauna and outhouse Clean,Clean,Clean. Hard-work'n, fun-lovin, and a wicked shredder. Our token, Split-board'n "Powder Pillow-Popp'n Princess". You can hear her magic call all the way from "the lumberyard". Scooby-doo!
Leah also knows a thing or two about Mexican food and tequila .
Besides Working at Mount Carlyle Leah has her own summer Adventure tourism business. www.Footstepsecoadventures.com . 
Leah also organizes  womens Yoga reteats out of Carlyle in the summer.
it's obvious why we call her "Lil Ripper", but YOU ask her why folks call her "Slap Chop"
Relevant Cert's
*CAA Lv 1
*Advanced Level 3 Wilderness first Aid (Certified for over 10yrs)
*AST Level 1 & 2
*Hiking guide for over 10yrs
*PMBI Mtn Bike Instructor
*CASI Snowboard Instructor
*Advanced Rock Climbing course
*Class 4 Drivers License 
* 500hr Yoga instructor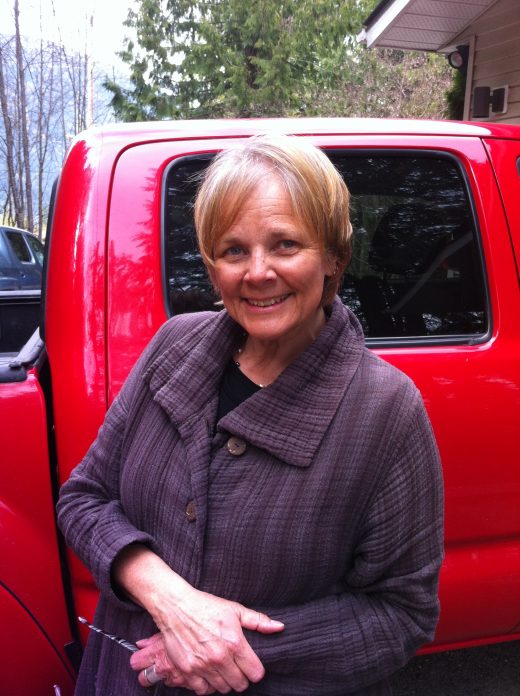 Janelle ( Excep-janelle) , Langford :
When Janelle cooks everyone shows up !
Food for Janelle is about sharing, ambience, flavour, ingredients, conversation, wine, laughter and of course recipes.
Her culinary career started 15 yrs ago at a retreat on Salt Spring island.
2009 she started her own catering company
2010 her first cookbook  was a sold out hit. "Bluewater Adventures presents recipes from a Galley Goddess"
A recipient of the National Capital Sommelier Guild scholarship
Gold Medal award for food and wine pairing competition (Algonquin College, Ottawa)
2014 Joined the Carlyle Crew.
2019 Invited to be a judge at the Guild of fine foods "The Great Taste food Awards"  in the UK .
Everyone agrees as a cook Janelle is "Excep-janelle" !
Spring and Summers find Janelle cooking on an Eco tour boat along the Pristine coast of BC and Alaska
Janelle loves to tell the tale of her parents meeting on a ski touring trip . Something about her dad asking her mom if he could "wax her skis",  wink, wink, nod , nod.
Janelle has led a varied , adventurous life with many stories to tell . I'd best save them for her to tell. 
Our Galley Goddess is as happy cooking as skiing fresh pow, or sailing.  
Glad to have ya board Mate !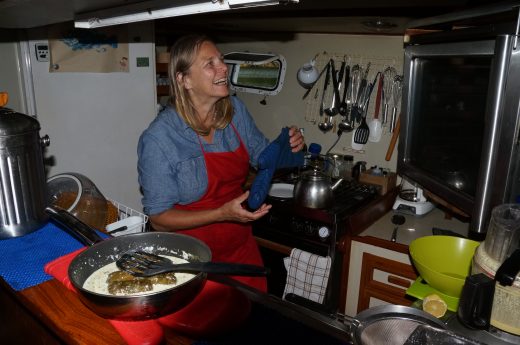 ( not the Carlyle kitchen)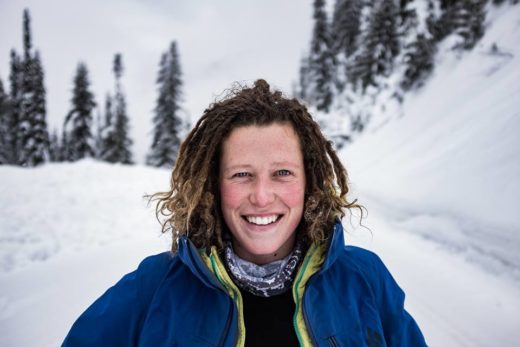 Kate (The Kid) Bell
Kate comes from a farm in Cheddar cheese country of Britain. A bit of a cheese snob, Loves Peanut Butter , tea time and shredd'n.
Kate's love for skiing started with her first winter in Europe and since then she's not missed a winter of skiing. Fer a kid of her age she's well traveled with a ton of experiences.
Kate spent time checking out various countries looking for the best snow; from Europe, N.Z. ,USA to South America. She'll tell ya Canada is the best! So good that she's becoming a citizen.
Revelstoke is now her home and The "Koot's" her playground. "The Kid" has knowledge beyond her yrs, a hard working , Awesome custodian and a solid Powder prospecting/mountaineering partner. We're Stoked to have her as part of our family and helping us make Carlyle's Powder Motherload that much more special.
– Wilderness first Aid Responder -80hr course
-Volunteer Ski Patrol -Revelstoke Ski Resort
– CAA Avalanche Operations Level 1
– has and is constantly working on completing various mountaineering courses.
-"any time is tea time".
                       Tara Morris
"Ter-ra" Has recently joined us as one of  "The Crew". Although she's been a friend of Carlyle for sometime ( Patience my arse bomber ,  I'm gonna kill something if i don't get a job at Carlyle ! ) , first as a guest and then as a volun"ter-ra".
Tara grew up in a skiing family from Fernie B.C. where she started skiing in her parents backpack. Her folks say she always had to see she where she was going so she used to counter lean while they were making turns.
so does this make her An Awkward Child ?
So growing up in Fernie which is still technically "The Koot's",  but in this part of the Koot's we call Fernie "the East side of the tracks" (ski tracks that is ), she's seen her share of Deep Pow and face shots.
Due to where she grew up she's a Powderhound , (Powder snob on her bad days) , but you can tell Tara is a straight up "Kootenay Gal",  cause her snowmobile is nicer than her truck. and well; … she's a Powderhound.
Besides Fernie , she's lived and played in Revelstoke and Nelson. Nakusp is now home.
Another keen worker/shredder, fast learner , great person and a fantastic asset for Carlyle .  Lucky Carlyle .
Experince :
-Ski Patroled for several yrs at Whitewater Ski resort.
-tail guide for POW GALS
-snow safety member for "Soulines" Backcountry event
-in the off season she's a forestry worker .
CERT'S:
-CAA Level 1
-Non Urban Emergency Care (NUEC)
-OFA 3
Crystal ("Bookie") Mathews:
Carlyle's Bookkeeper/Reservation Manager
Crystal has been a bookkeeper for ….. well a long time. A resume of large and small clients (i.e. Canadian Avalanche Association). Crystal doesn't get out to ski the Pow at Carlyle , as she's busy in the Valley making sure the bills get paid, collecting last minute trip payments, and keeping the rest of us up to date on clients wishes, ETC!! .
Crystal's main hobbies are her Garden (she's won awards), and her grandchildren (6 and counting). So if she doesn't get back to you as soon as ya think she should, she's probably doing the grandma thing. Patience Please.
After working as Carlyle's Bookkeeper/Reservation manager for the past 8 yrs it's amazing Crystal still has all the hair on her head (it's not grey , it's a snowy "Crystal" colour) .
Good Job Crystal and the rest of  The invaluable "Crew", our volunteer support team  and tradespeople , couldn't do it without all of ya's.
And in memory to most important members of the crew who started it all Happening….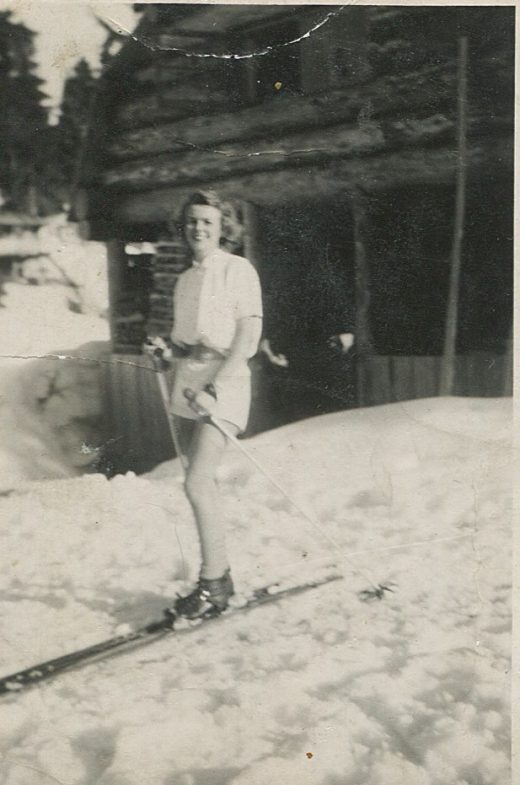 Bomber's Mom- 1942?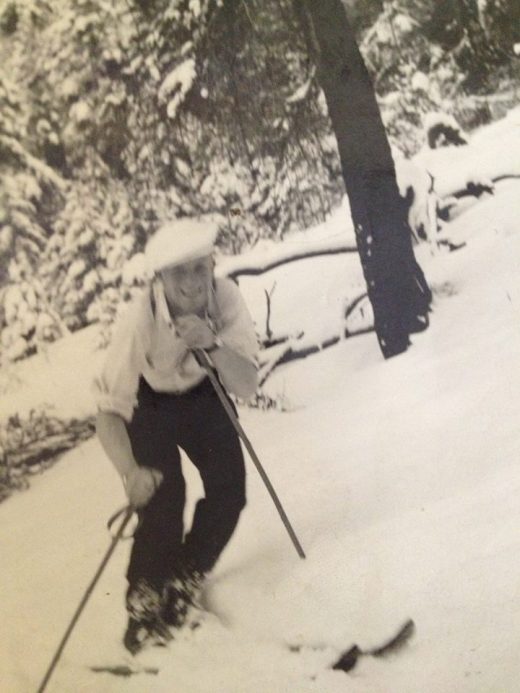 Bomber's Dad-1940-ish.
If you get no joy from snow you'll have less joy in yer life , and still the same amount of snow !