If you get no joy in snow ,you'll have less joy in yer life and the same amount of snow !
THE LODGE….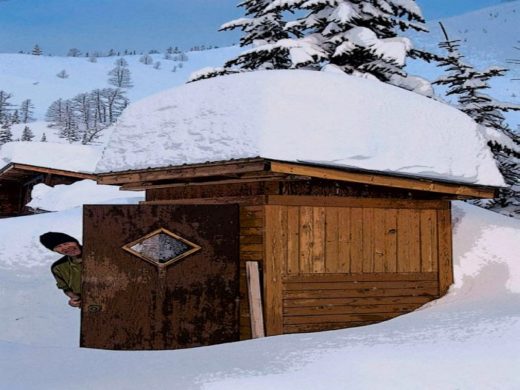 photo Larry Doell.
NAY…. it's just the Old Outhouse.but nice photo of a dump…of snow!!!
Carlyle Backcountry Lodge Location:
Elevation – 7200 Feet – Kokanee Mountain Range
Selkirk Mountains – Kootenays – British Columbia – Canada
MAP 82F/14…1:50,000 scale
UTM =
489949E
5530191N
OR
"Lat's and Long's"
49 degrees 55′ 42″ N
117 degrees 08′ 23″ W
Carlyle Radio Frequency:
 158.94

Mt Carlyle Lodge comfortably accommodates up to 12 backcountry enthusiasts .
Our Backcountry Lodge Amenities:
Roomy entry/mudroom.
Large Kitchen and dining area . Separate relaxation/recovery room.
Separate sleeping annex with 4 spacious bunk rooms.
in-house washroom with night toilet.
Sun deck with outdoor bar-b-que.
Hot water on demand system.
Modern deluxe kitchen .
Best view of Kokanee Glacier anywhere in "The Koot's", right from our dining room table
Power: Solar and generator.
Cooking: Propane.
Heating: Wood heater in the relaxation/recovery room + propane stove with ample space for drying gear.
Separate Wood-fired Sauna/Shower house with attached Yoga/stretching room.
Location
Mount Carlyle Lodge is located 30km west of the town of Kaslo 70 km north of the city of Nelson, in the Kootenay Region of Southern British Columbia, Western Canada. Nelson is the closest larger center, with a population of approximately 10,000 .
Summer access : A 3.5 hour hike (average time).
In the Winter : By Helicopter. Flights to the lodge leave from Kaslo Airport, (a 1 hour drive north of Nelson). Kaslo is a small picturesque mountain town with a population of around 1,200 . Kaslo is located on the West shore of Kootenay Lake ,and has most amenities you need including various accommodation options, a super market, a liquor store (both not open on Sunday) and 4 restaurants and of course an Excellent Micro brewery( The Angry Hen).
If you need any last minute mountain gear visit the Roam shop in Nelson.
If you are traveling from the USA, we recommend flying into Spokane WA, and renting a vehicle . The approximate driving time from Spokane airport to Kaslo is 4.5 hours over a driving distance of 325 km.( 205 miles)
If you plan to fly back from Spokane, we recommend booking a flight not earlier than 6:00 PM on Sunday.
Closest airports within Canada:
Castlegar BC – 150 km SW of  Kaslo
Cranbrook BC – 400 km East of Kaslo .
Kelowna BC – 400 km West of Kaslo
Travel from Airports :
Car rentals are also available from all Airports including Spokane
Driving times to Kaslo from:
Vancouver 9 hrs.
Calgary 9hrs.
Nelson 1 hr.
Castlegar 1.5 hrs.
New Denver 1 hr.
Vernon 3.5 hrs.
Revelstoke 3 hrs.
Cranbrook 4 hrs.
Spokane 4.5 hrs.
Kelowna 4.5 hrs.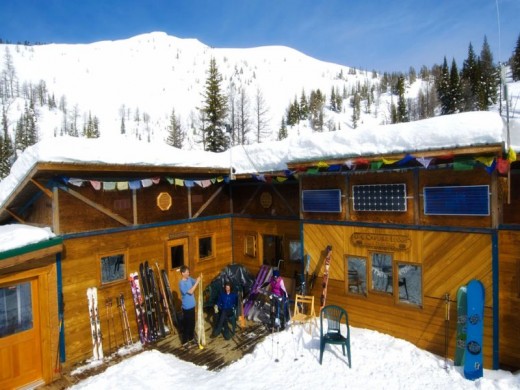 Our ski weeks run Sunday to Sunday . For the sake of logistics, we recommend your group stay in Kaslo the night prior to your flight into the lodge.
One of our Custodians will meet you Saturday night to sign waivers, give you a summary of what the snowpack and wx has been like over the previous week.Maybe answer any last minute questions , etc over a beer, eh? "The Angry Hen" Micro brewery is a great meeting spot.
If you haven't been to Carlyle before we can help you find your way to the staging area, on Sunday morning.
In regards to the exit flight day from the lodge, you can plan on being back at Kaslo Airport at around 12:00 noon, unless we need to delay the helicopter due to poor weather.
Please visit the Pre-Trip Info page for more details regarding our flight into the lodge and accommodation options.