SUMMER 2021 WE OPEN JULY 09.
CLOSE AFTER THANKSGIVING
For lodge bookings,choose available dates on the calendar below and fill out the contact form.
We'll get in touch shortly to confirm your booking.
***Note Calendar does not indicate availability of "The Sourdough Traverse" ***
to inquire about Sourdough Traverse availability contact me at brian@kmhbc.com  or 250-355-2269
Now back to lodge booking info  *NOTE *
Dates in Red are "CONFIRMED Lodge bookings".
Dates in Amber are "INQUIRIES"
To Inquire about a summer booking using the calendar below please select each night you would like to spend at the lodge and fill out the information below. In the details section please clarify which date you would like to hike in and out.
scroll down below Lodge Booking Calendar and a couple of photos to see our rates, and info on all Summer trips. Check out the Hiking and Yoga Retreats here.
SUMMER 2021 RATES:
The Prospector: (self-guided/Self-Catered)
We rent the whole darn lodge out to groups of up to 10 folks for $430/night plus tax.( minimum 2 nights).
For every person beyond 10 it's another $43/person/night. Plus tax.*****THIS YEAR DUE TO COVID WE'RE LIMITING OUR GUESTS TO 10 .NO MIXING AND MATCHING GROUPS ..ONLY GROUPS WHO ARE FAMILY AND OR IN YOUR "SOCIAL BUBBLE"
We're Kid friendly. Great family experience.
We supply sleeping foamies, pillows,and duvets(

NO DUVETS THIS YEAR DUE TO THAT DANG COVID

) .Best you bring yer own sleeping bag, (

AND A BOTTOM SHEET

) or sheets…Don't forget yer pillow case..OR YOUR OWN PILLOW? HOWEVER WE HAVE ENOUGH PILLOWS TO ACCOMODATE FOLKS . WE SWITCH EM OUT BETWEEN GUESTS .IF WANT US TO SUPPLY PILLOWS FOR YOU AT LEAST BRING PILLOW PROTECTOR AND PILLOW CASES.

Don't want to haul your own sleeping gear in and out? We charge an extra $10/night/person for sheets and Pillow cases(it ain't easy hiking all that in and out to the laundry Mat).
PORTER SERVICES ARE AVAILABLE
"The Grubstake": (Catered/Self-guided).
Rent the lodge for the same above price, but add $300/day for cooks wage, and $35/head/day for food. There is a charge for getting "the grub" to the lodge.
"The Motherload": ( Guided and Catered)
Same as above, but add another $300/day for the Guide. Number of Guides depend on group size.
We also have "Specialty Theme" trips,
"Plien-aire" painting workshops.
Yoga and wellness retreats (a huge yoga deck set in an Awe inspiring location).
Weddings and Birthdays are a big hit.
stay a night or 2 in our spacious lodge ,perhaps do a day hike to one of our well-stocked "remote" campsites, and spend a night there…. and much more.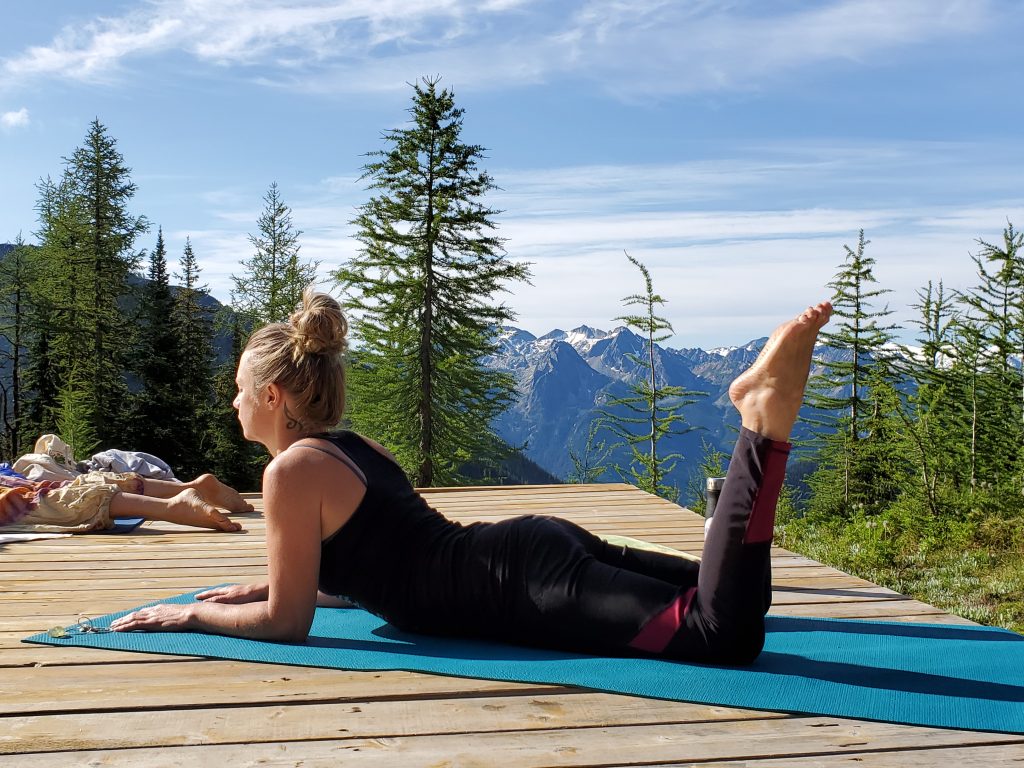 There is a new yoga and meditation instructor on staff that is available upon request. Well she's always been part of the staff, but now she's a certified Yoga instructor as well as a hiking guide and custodian.
Classes will be held on our beautiful outdoor, glacier view platform in the wildflower meadows.Poster-2020 Yoga
FOR THE MORE ADVENTUROUS
JOIN US FOR OUR MULTI DAY TRAVERSE THIS SUMMER:
The SourDough Traverse….A Spectacular hidden Gem , a Kootenay Classic . 4 days of hiking along a High elevation , ridgeline, overflowing with wildflowers, camp alongside Alpine lakes for 2 nights, while being surrounded by 5 different mtn ranges. A photographers dream.
NOTE: This trip is best suited for Experienced hikers with a high level of fitness. Experience with "OFF-Trail" hiking and comfort with exposure is required. Some folks say it's right up there with the "West Coast trial". A Classic !
What's so SPECIAL about this hike? All you need is a day pack !! That's right NO Heavy pack. At both nights camping sites we have located "stash" boxes , supplied with all camping supplies, along with all Non-perishable food and "Beverages".
Only things you need in your pack (besides a bit of fresh "Grub"), is a sleeping bag, camera, tooth brush, and a change of clothing.
Enjoy your 3rd nights dinner in our Dining room (or on our deck), with unparalleled views of Kokanee Glacier. Enjoy a relaxing Sweat in our Sauna followed by a sweet shower.
Become "Star struck", by the night sky filled with billions of stars.
Top it off by falling off to Sleep in clean sheets in a large, comfy bed in our spacious lodge.
The 4th day you have the choice of Hiking into the nearby alpine meadows and ridges , bag a peak or 2, Explore an old mine site from the 1890's. A short hike takes you out to our trailhead in Carpenter creek, where we can shuttle you back to your vehicle where we started our 4 day hike.
2021 Sourdough Trip Availability
Please contact us to book your spot.
There is also the option to continue hiking along more enticing , Alpine ridgelines , with Spectacular views of endless Glaciers and the Beautiful Kootenay lake for another 2 days ,and one night stay at our 3rd remote campsite . The following day (day 5) you end back at our Trailhead in Carpenter Creek.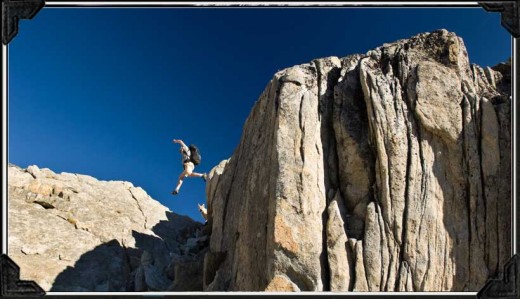 D. Gadotti writes about our Sourdough traverse:
Magnificent!!!! Thank You , Thank you, Thank You on so many levels! First of all for telling me about this tour, I had never heard of about it from any other source. This should be one of the classic hikes of the world, up there with the West coast trail and the North coast of Kywaii Island!, here it is in my backyard !
Thank You for the care you put into preparing those camps, such loving foresight in trying to anticipate every need and want of your hikers, I particularly appreciated the latrines, so well built, away from water sources, sheltered from wind and privacy…
Robert Young ( 80yrs)
I've been an avid hiker most of my life, This is THE BEST HIKE EVER!
Cathy Hopland
My husband Jim and I enjoyed this Amazing trip , we're looking forward to coming back again.
Our Regular OLE Hiking Options
Besides the Sourdough Traverse , Our regular hiking scenario involves staying each night at the lodge and doing day trips in the Kokanee Range from our lodge location at treeline, elevation 7,200 feet. Here, you can call this magnificent place your backcountry home! Stunning mountain vistas from high mountain ridges and summits reward your daily hiking journeys via a trail network of 20 km and unlimited off-trail options for intermediate to advanced outdoor enthusiasts.
Family Friendly Hiking
We just hiked up with a group including 8 kids, ages 5 – 10.
It took us 3-4 hours including lunch at the lake.
They all had a great time.
There is a short, steep climb at the beginning of the hike. But there were huckleberries to entertain the kids. After that it's quite an easy hike all the way to the lake. Then a little steep part to get up to the pass, but the kids were excited to get to the top so that was no problem. They really liked stopping at the old silver mine along the way.
The kids climbed to the summit of Misty Mountain the next day. They also had a lot of fun exploring the huge alpine basin around the lodge.
we run our Summer hiking programs with the help of our good Friend Leah Brown and her business Footsteps Eco Adventures
MAP 82F/14 …1:50,000 scale