28 Unique Mountain Basins Provide an Unlimited Array of Terrain Options, Mellow to Steep Descents and Endless Backcountry Exploration. Download a Terrain Map.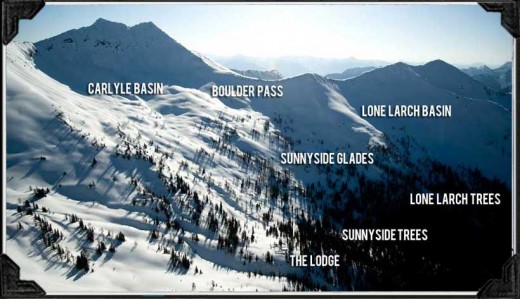 Access Steep Trees, Sub Alpine Glades & Open Alpine – Instantly.
Drop into several different 1500′(460m) descents , literally right out the front door , no skins needed to start your day.
Sheltered Terrain Configuration & Numerous Northerly Aspects, Guarantee Consistent Exceptional Snow Quality.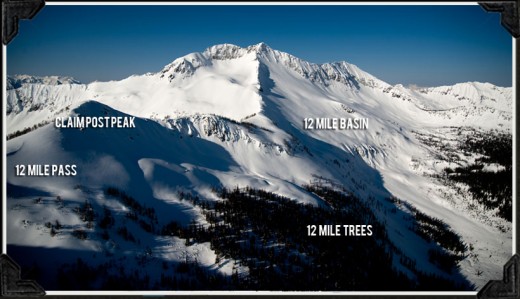 Our Operating Area Stats
MAP 82F/14…1:50,000 scale
~40 square kilometers.
Our average accumulated vertical descents in a day are around 4000 – 5000 feet and some groups are skiing/boarding up to 9000′.
Our individual descents range from 600ft to 2500ft vertical (200m-760m) with the average run being 1500 vertical feet (460m), ,and take place between the 5800 to 8500 ft (1750-2600m),elevation band, which supports a consistent good quality of snow in relation to temperatures and wind affect.
40% of the terrain is North – NW – 20% NE and the remainder is S and SW facing.
Access to: 28 different alpine basins.
Variety of terrain open and treed: 50% of our terrain is open Alpine and the remainder is Famous Kootenay ,well spaced ,Old Growth forests.
Difficulty of terrain: We can cater to all ability levels but it does help to be a confident skier/boarder when traveling on the high ridges and quick on the turn when we ski the tree's.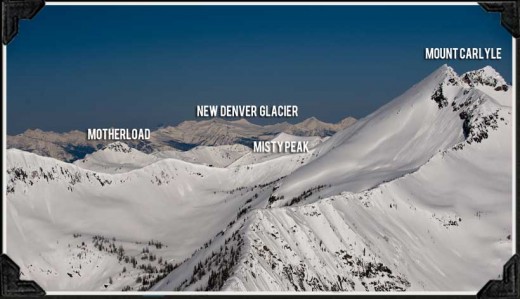 SELKIRK POW
This phenomena has to do with our geographical location and the jet stream patterns. In general our weather starts mainly in the Northern Aleutian Islands and from there the jet stream carries cold arctic air down south west or just west of us, mixing with warm air out in the Pacific creating moisture and low pressure systems that start spinning towards us, coming far enough from the coast and gaining in elevation due to Orographic lift, things cool down and the precipitation ends up as "Selkirk Pow".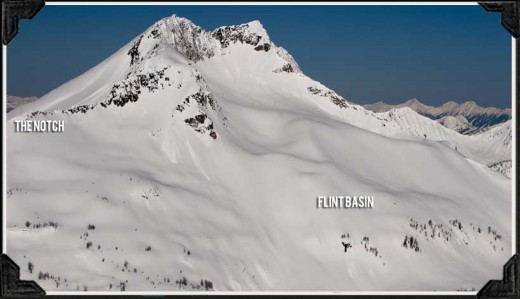 Our Snow Quality
Snow is snow, or is that so? There are locations that can guarantee, more consistent powder.
WE ARE ONE OF THOSE !!!.
Why do we have more consistent powder?
Carlyle is located in the central part of the Southern Selkirks, world-renown for snow quantity and quality
.
The mountain topography surrounding us, consists of tight cirque-shaped Alpine basins offering endless sub-alpine and below tree-line skiing/snowboarding options on numerous northerly aspects
.
At tree-line and below is where you always find good snow, since this is where the snow stays protected from pounding mountain winds
.
On average the storm trends come from the SW with the front ranges of the Selkirk Uplift taking the brunt of the first wave of winds. While numerous other lodges have mainly open , exposed Alpine terrain with limited sheltered tree skiing; Skiing can be greatly effected by high elevation winds.
Carlyle backcountry lodge with our central geographical location, protected mountain features endless treeline and below-treeline areas, we can always find exceptional snow.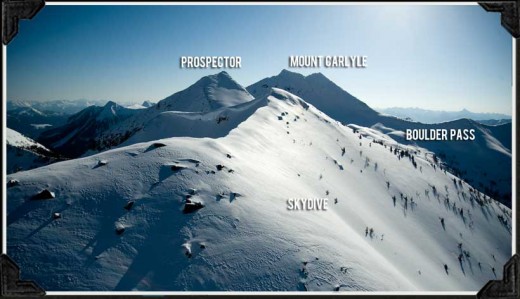 Temperature
Our Comfortable "Goldie-locks" winter temperatures, "not too cold, not too warm…Just Right", not only allows you to enjoy the great outdoors, but also promotes favorable snow settlement, enhancing snow stability. Weaker snow layers tend to develop more consistently in dryer colder regions to the East and NE of us.
If you get no joy from snow you'll have less joy in your life , and the same amount of snow !