Last Minute Questions:
Once our season starts it's best to Contact Crystal for Reservation,and payment questionsPh.250-362-9670. Email…woddles@telus.net
For other logistical questions contact your custodian .
Or myself directly ,at info@kmhbc.com or brian@kmhbc.com.
MAP 82F/14 … 1:50,000 scale .
UTM = 489949E 5530191N
Carlyle Repeater = Receive: 164.565 CTSS Tone 110.9
Transmit: 168.585 CTSS Tone 110.9
BOTH Receive and transmit are WIDEBAND.
Your custodian for the week will be contacting you about 1 week prior to your trip date. At which time they will be exchanging contact info, attempting to answer any last minute questions,etc…
Please familiarize yourselves with the Waiver, fine print, and heli logistix.

• Download the Guided Trip Waiver

• Download the Self Guided Trip Waiver
INSURANCE
Extended medical and cancellation insurance is available and recommended, call your travel agent or Lifestyle Financial for more information. Lifestyle Financial is a small firm located in the heart of the Okanagan Valley who help insure vacations across the world, or right here in Canada.
Global Rescue
Global Rescue is a medical evacuation and crisis response company that provides evacuation services for skiers all over the world.
For more information go to Global Rescue.
We highly recommend groups purchase medical and trip cancellation Insurance . Contact your local provider.
HELICOPTER LOGISTIX
Helicopter Staging Area:
Kaslo, North end of Airport. Meeting time Sunday mornings 8:30a.m.
Directions to the helicopter staging area:
BEST BE ON TIME, besides yourself; your being late effects over 2 dozen folks and equipment. However if for some unforeseen reason (better be a good reason ) Contact Highland helicopters (250-265-3434) by 8:00am if you will not be arriving to the helicopter staging area on time.
Coming from Nelson, drive 1 km past the Esso Gas Station, (on your right), and turn LEFT onto Balfour Ave.
Coming from Kaslo, drive towards Nelson, at the crest of the first large hill; turn RIGHT onto Balfour Ave. towards the airport.
After turning onto Balfour Ave. stay on this main road without turning left or right for 3 km. You will be driving past a few airplane hangers on your left after a small hill.
The KMH helicopter staging location is at the very end of the airstrip on the left. Once you arrive, you will meet a KMH representative who will start organizing things for the helicopter flights in.
Helicopter type:
Bell 206 Long ranger III – 4 passenger with a ski basket.
Heli Company:
Highland Helicopters Ltd. 250-265-3434
KMH STANDARD HELICOPTER FLIGHTS:
From Kaslo Airport there will be a total of 3 passenger flights and 1 sling load of gear to the Lodge. A small amount of gear is loaded onto the machine with passenger flights in cargo compartment and outside cargo "basket".
VERY IMPORTANT:
To ensure safe helicopter travel, flight weights are set at a maximum allowable.
ALLOWABLE GEAR WEIGHT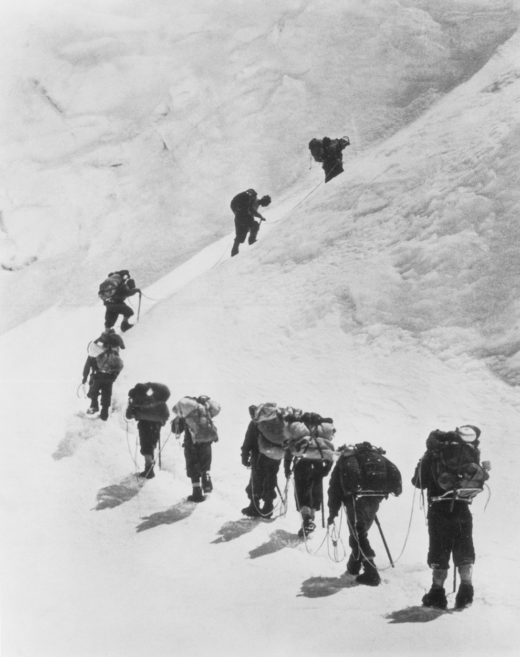 per person including SKIS:
Lodge Rental-Self-Catered Groups: 80 lbs. per person
KMH Catered groups: 50 lbs. per person


Gear means: Skis, day packs, all packed clothes, all food, liquor and anything else you will be bringing.
PLEASE NOTE: EXTRA FLIGHTS!
If you feel you cannot meet the weight restrictions , or your group prefers to come in "overweight", No worries you just need to buy another flight ( approximately $500/per flight).
Depending on the size of your group and amount of gear you may need to buy a flight out as well.
Often Carlyle Lodge needs to fly in gear/supplies so we maybe able to help in offsetting an extra flight.
Contact us ahead of time so we have time to organize logistics of an extra flight.
We prefer to have the cost for extra flights paid in advance ($500 per flight). Contact Crystal (reservation manager/bookkeeper). However always bring Enough CASH to Cover an Extra Flight if you are unsure your group is within the Weight restrictions.
If your group does not want to make an extra flight then each individual needs to weigh out all their gear prior to arrival to make sure they are not over the allowable. A bathroom scale works fine for this.
Our custodians will check weights to ensure all gear is within a few pounds of the allowable weight's as stated above.
Kaslo Amenities
All shops are open Saturdays until 17:30 and are located on Front Street.
Groceries: Big Way Supermarket and Cornucopia.
Health food stores: Sunnyside Naturals.
BC Liquor Store.
Home Hardware for Misc. hardware supplies.
Restaurants: Blue Bell Bistro, Taqueria El Corazon, Rose wood Cafe, Tree House( breakfast only),.
Pre and Post trip Accommodation Options:
(reservations highly recommended)
Kaslo Motel: Downtown Kaslo close to center of town. 250 353 2431Kaslo Manor Lodge 250-353-2999
Kaslo Hotel 250-353-7714
On the Cliff B and B: 5 min south of Kaslo, 250-353-7647
Ainsworth Hot springs Resort: 15 min. south of Kaslo 250- 229- 4212
At The Lodge We Provide:
Bedding: We supply all bedding.

For Cooking: A four burner propane stove top and oven and an out-side barbeque.
An excellent selection of pots, pans, baking dishes and all necessary utensils and a mixer.
Food storage: outside freezer storage cupboard, 2 inside cool storage cupboards for non-frozen goods.
We also supply: All toilet paper and soaps for dishes, general hygiene, shampoo etc.
There are ample tools for any necessary equipment repairs.
Tunes: There is a BOSE Bluetooth player ( no batteries needed).
YOU SHOULD ALWAYS BRING:
-Hut shoes/slippers
-snow boots for heading to and from the Sauna
-Towel for the sauna.
-Headlamp
-Re-usable lunch containers !!!
-Ski Crampons? (if ya got em might as well bring em).
We have ample power so you can power your chargers for your, radios, cameras and headlamps, etc.
Bring spare batteries for your transceivers. etc.
We have a generator which we will run as necessary in the evenings.
In the name of conservation we try to organize as much charging as possible at one time.
Bring a quick charger for batteries if possible.
Self Catered groups need to bring #6 coffee filters (we have an electric coffee grinder at the lodge) and tea towels.
If you like to use paper towels, please bring your own.

Sorry "Dogs Are Not Allowed" except for human powder hounds. Guests have/may be hyper-allergic to dog hair.
EMERGENCY EQUIPMENT AT THE LODGE AVAILABLE TO SELF-GUIDED GROUPS:
A light portable cascade rescue toboggan, spine board, leg splints, oxygen, white gas stove and pots, emergency tent, a rescue pack which includes: a tarp, a sleeping bag, 2 blankets, cervical collar, a "rescue bubble" and 50-meter rope. There is a rescue plan with the important Phone #. You and your group are responsible for any other first aid gear needed.
We recommend that you all carry a small first aid kit, while you are skiing.
COMMUNICATION:
We have radio communication at the guides/custodian cabin. If you are up at the lodge and there is an emergency at home, have people call the office @ 250 355-2269, or Crystal at 250-362-9670.
Best if they email us at the lodge.
We recommend groups bring in at least 1 Sat phone.
Please note communications in remote locations can be unreliable and there can be lenghty "lag" times between communications.
We will supply the group organizer with a VHF radio that can be used in the field for emergencies. VHF Radio communication in the field has its limitations. If you have your own programmable radio our Repeater frequency is as follows RECEIVE: 164.565 Tone 110.9
TRANSMIT: 168.585 Tone 110.9 Both are on WIDEBAND.
AVERAGE DRIVING TIMES to the KMH HELICOPTER STAGING/MEETING SPOT:
Kaslo 5 min
Nelson 1 hr
Castlegar 1.5 hrs
New Denver 1 hr
Vernon 3 hrs
Revelstoke 3.5 hrs
(there is a ferry crossing on this route)
Note: if you are flying back home from Spokane we recommend you book a flight for the Monday unless there is a flight after 18:00 on Sunday.You never know how long a border crossing can take !
Travel from Airports – Several local Group van shuttle services are available to and from all the above Airports, as well as Spokane . Contact the below local shuttle services for more info on all the different airports they service. This should be done well in advance of your trip date.
Car rentals are also available from all Airports including Spokane and Castlegar.
Info@footstepsecoadventures.com
Gravity Adventures Shuttle Bus
Queen City Shuttle
We do have a good ski out option which can be done under most conditions and takes an average of 4-5 ? hours, and is a viable option if you need to catch a plane on Sunday .
Meeting Time: Saturday Evening at the Kaslo Hotel
One of our custodians will meet you here with waivers for you to sign. Your custodian can answer any last minute questions,including recent wx/avi conditions at this Saturday night meeting.
Please familiarize yourselves with directions to the heli staging area.
PACKING:
Food and fluids should be packed in small cardboard boxes and taped closed. (You can find these usually at liquor stores) .
Your day pack is an important part of your flight ,you need to have it on board with you.
Do not load your daypack with anything else other than what you would take as for a day of backcountry skiing/boarding.
All extra clothes and misc. should be packed in A Large Backpack. Duffel Bags are not recommended since you will have to carry them if you need to ski/board out!
It is important to be all packed prior to arrival for the flight in.
Dress as for a day of skiing, you will need to wear your ski boots on your flight in. 

Skis should be strapped or taped together. No ski bags please. Your skis and poles will be part of your passenger flight.
Split boards are fine in one piece. REMOVE bindings
.
A sling load for all other gear will be prepared once you arrive at staging .
The KMH personnel will deal with all the helicopter logistics, loading and unloading.
You will be given a helicopter safety briefing by the Pilot once all the gear is organized.